Everyone deserves to learn how to embody more connection and pleasure so they can create fulfilling relationships and profoundly passionate sex, that is precisely my goal. I am a Somatic Sexologist and Certified Sexological Bodyworker, and have created unique opportunities to support you along your pleasure path. As a sex-positive, kinky, non-monogamous woman who is a proud member of the LGBTQ+ community, I support all forms of relationship design and love sharing my knowledge and skills with others.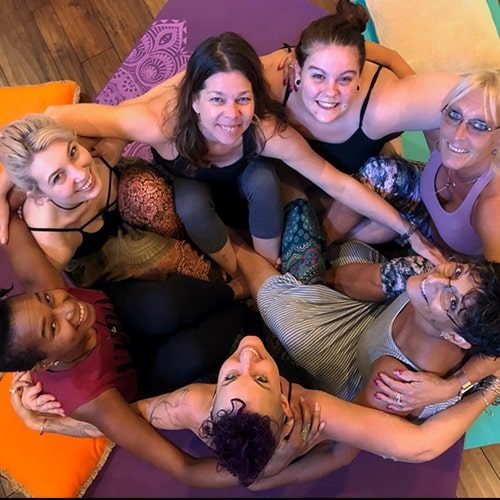 Are you looking to move further down your pleasure path?
Do you want to release unneeded baggage or rewire unhealthy emotional patterns?
Maybe you are looking to discover & connect to your desires so that you can love with deeper connections, healthy attachments, and better intimacy.

Then this is a great place to start!
Gateway Weekend Info
I left feeling appreciated and valued
Prior to coming to the Gateway, I felt stress from all the things I had occurring in my life, but I left feeling appreciated and valued. I was grateful for Dragonfly checking in with me and offering support when needed.… Read more "I left feeling appreciated and valued"
Yemoja, New Orleans
I was not expecting that!
Thank you Dragonfly for the experience you have given us, I was not expecting that. This was so much more than we could have imagined. Your classes are not only pleasurable and sexy, but new perspectives towards connection and I… Read more "I was not expecting that!"
Erin & Jack, NY Couples Gateway
Can't wait to attend another event.
We were super excited when we signed up, but got apprehensive as the date grew closer. The event, however, exceeded our expectations. We were made to feel super comfortable, and were able to explore each other in a way we… Read more "Can't wait to attend another event."
Jill & Mark, MO Couples Gateway
Couples Gateway, Gateway
Dear Fellow Goddesses,
At first, I was unsure about going into this Gateway Weekend. This was my first time going to anything like this and I was unsure of what may happen and who I may meet there. I always jump to negative… Read more "Dear Fellow Goddesses,"
Lindsi Werner, Fellow Goddess Goddess Gateway
We would recommend!
We would recommend any and all sessions you can experience with Dragonfly and E.
Anonymous, Idaho Couples Gateway