Welcome to the Next Step on Your Pleasure Path
We all walk our own pleasure path.
We have unique wants, needs, and desires.
When our path intersects with others and their wants and desires, things can get exciting, arousing, frustrating, confusing, and just about every other emotion.
I am here to guide you through the tough spots and expand your yummy areas so you can spend more time in the pleasure.
You want to deepen your connection with yourself and your partner(s). And create the sex, relationship, and personal path that is right for you.
You're thinking you want to open up your relationship and looking for some guidance and support.
You're interested in learning new techniques and skills to increase your pleasure.
You're interested in a holistic, loving, and systematic approach to experiencing better sex and deeper relationships.
This is an amazing journey, and I want to support your body's process of discovering, releasing, healing, and pleasure embodiment for the longevity of your sexual wellness and self-care and your overall relationships.
Imagine a life where you spend as little time in tension and fighting and as much time in joy, connection, and pleasure as possible.
Somatic sexology develops 'embodiment', which is deeper presence, awareness and understanding of what is going on in your body and in sex. Embodiment releases body-mind restrictions that inhibit pleasure, and allows space for greater growth, choice and play.
KV, TX
Private VIP Client
What it's like to Work with Me?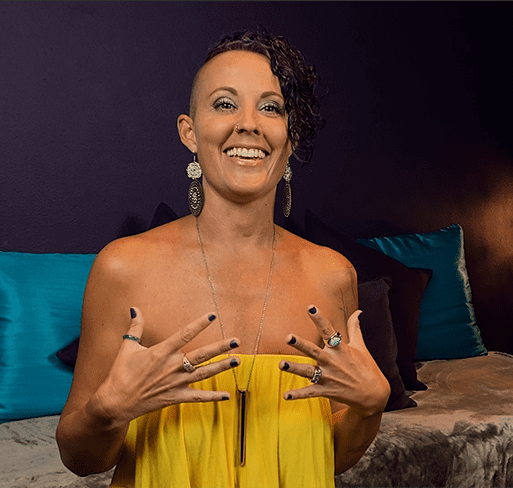 Confidential, Effective, Flexible
& Non-Judgemental Safe Space
I use educational tools on up-to-date neuroscience research about how people learn, connect and experience personal growth. Through this compassionate and revealing process, you will experience your own personal transformation.
Sessions with me are integrative, including virtual online and hands-on in-person immersive.
Many people have various concerns and need personal expansion in the realm of Intimacy, Relationships & Sex. I work with a somatic experiential-based approach using multiple modalities, trained to help you move through, reclaim, and discover the pleasure you hold within your own body.
Each individual, couple, and relationship design is unique. My approach is tailored for what is needed at each step of your erotic journey, understanding where you are currently and where you would like to be.
Some common areas I help with are:
Sexual Wellness, Functional Personal & Interpersonal Relationship
– Body image, comfort and acceptance
– Transforming low-libido
– Find out the underlying causes of low desire to reignite or discover interest in sex
– Relax anxieties around sex
– Sexual difficulties including anorgasmia or difficulty orgasming and pelvic pain
– Understand your body and your orgasmic response
– Embracing your sensuality
– Masturbation
– Breathwork, supporting wellness and shifting choices
– Deal with underlying emotional pain and disappointment to shift unhealthy relationship patterns
– Balancing your giving and receiving
– Menopausal challenges and hormone balance
– C-section, hysterectomy, vaginal scarring, circumcision tissue remediation
– Exploring your turn-ons & core erotic theme, hottest sexual movie
-Understanding and accepting troublesome turn-ons
– Reignite the spark into your relationship
– Bridge differences in desires
– Become familiar with your body and an expert on you own arousal
– Improving sexual response and pleasure
– Move past a sexless marriage or low sex relationship to find a healthy sex life again
– Pleasure Mapping to understand your body & unique erotic zones
– Increased pleasure in sex
– Understanding painful sex & ways to help
– Identify and communicate your sexual needs
– Effective and actionable communication that works
– Freeing yourself of shame and judgement
– Understanding your needs, wants & desires
– Understanding your sexual style and how to relate to your partner's sexual style
– Getting clear on what your body likes and dislikes, and how to effectively communicate this
– Understanding & establishing clear boundaries
– Understand your inner child & how it affects your relationships
– Understanding developmental trauma and neglect to heal attachment wounds
– Learning how to ask for what you want


Consensual Non-Monogamy

– Negotiation around monogamy and non-monogamy
– Opening your relationship to other sexual partners
– Understanding needs & desires and how to navigate them
– Understanding different types of CNM (consensual non-monogamy)
– Designing the type of CNM that works for you
– Effective communication that works specific to CNM
– Understand & avoid common pitfalls
– How to navigate communication and jealousy
– Shifting from one type of CNM to another
Once I was able to face my trauma I was able to move on to her classes on body mapping, and sexual wellness with my husband. Our marriage and sex life is stronger than I could have ever imagined. I am able to fully give myself to him and trust that he only wants the best for me. To say that our work with Dragonfly has improved our sex life would be like calling the ocean a puddle.
-Renee R., AR – Private VIP Client
I wanted to let you know how much your work during our last session helped me. I cannot overstate your caring and sensitivity as a bodyworker, always assuring me, asking for feedback, and seeming to "know" what I was feeling. I will highly recommend you, and will provide a personal recommendation to anyone considering your services.
-Roger Scott – Private VIP Client
From my initial conversation with Dragonfly about the practice of somatic sex coaching, I had an immediate comfort level with the concept. Her positive approach to all aspects of sexuality provided an atmosphere of acceptance that allowed me to relax and open myself to her guidance. Dragonfly's professional attitude in discussing the relationship between practitioner and client included explanations of breathing and massage techniques, physical contact guidelines, and encouragement to express emotion during the session. Dragonfly's attention to the goals and intentions we discussed brought a sense of complete understanding of my needs.
Even now, a day later, I feel an underlying awakening within my body. She also worked with my husband after me. After just these initial sessions, I've sensed the connection with my husband strengthening on a deeper level. We are looking forward to continuing our journey with Dragonfly.
-Jaye S. – Private VIP Client
*Please submit applications to become a VIP Client, ONLY. General contact Qs, please use the contact form.